New Release! Embodied and Enchanted: Physical Tales from Elaine Muray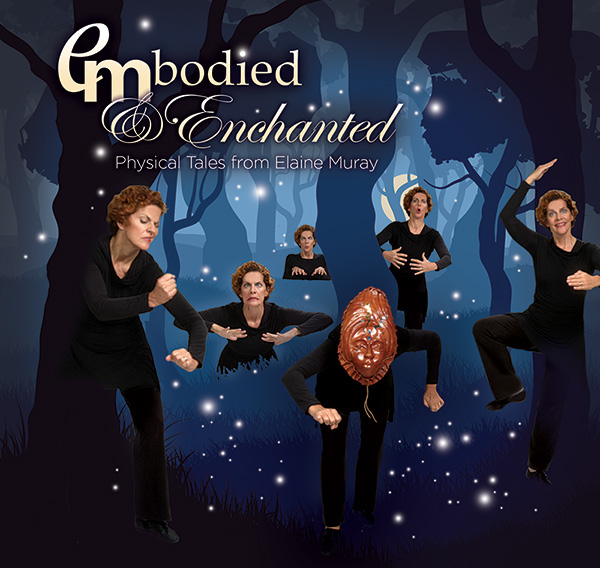 After six months of raising money, choosing and rehearsing stories, prepping the videographer with scripts and tapes and my ideas, researching music and images, flying to Maine for 3 days of taping, working on the cover graphics, working with a duplicator…..my new DVD is finally here. And I am so thankful and proud…thankful to all the Indiegogo contributors who made this project possible, to Leland Faulkner and Michael Menes who worked so creatively to make the outcome something they too would be proud of, to my niece, Julie Dull who listens well and offered stunning designs, and to those who placed advanced sales to help me offset some duplication costs.
I hope you will have a look at what all this has begot. To order a copy, please write me at elaine@embodiedvoicestoryarts.com and I will send you an Order Form and instructions.
Thank you for supporting both live and digital performance!
Busy, Busy, Busy
They say if you want to get something done, ask a busy person. Busy I am this month, in preparation for a myriad of public and private performances all over the map. Public performances include Washington, DC (February 4th), the Bay area (February 10th-12th), Southern California (February 17th), Farmington, NM (February 27th and 28th), my hometown of Albuquerque, NM (March 18th-26th), and back to Washington, DC (April 12th-? so far) and Woodruff, SC (Stone Soup Storytelling Festival, New Voices). To see details, please go to What's Afoot on the EmbodiedVoice website.
Asia, Here I Come!
I am happy to report that I will be joining DreamOn for my second tour…this time to China and Korea. The tour which commence mid-October, will be four weeks long and will focus on English immersion schools in select destinations. I am so honored to be part of the DreamOn team and am looking forward to making them proud!
Playing with Cultural Context
In the past three years, I have had the pleasure of working on commissioned story programs for the Hillwood Estate, Museum, and Gardens as part of their annual Le Chandeleur festival. Specifically, they wanted me to develop stories they had chosen from the fables of La Fontaine. If you have ever read La Fontaine in English, let alone, French, you would realize just how difficult that is, as the language itself presents a barrier, as do the political overtones and some endings that just fall flat, as well as the brevity of the stories themselves (The Tortoise and the Hare is only about 3 lines long!) Nonetheless, I accepted the challenge.
Because it was a festival that was in conjunction with The Alliance Francaise of Washington, DC., I felt it was important to strive to integrate some French culture into the stories, as most of the people in the audience were sure to have some kind of French connection. I cannot stress enough, how taking this route enriched my stories and has encouraged me to explore in other tales as well. It took them from simple little fables that fit on a small page of a book to fully blown out tales that have some kind of connection to a French place, food, indigenous animals, and just overall culture. Here is a summary of how these pieces turned out in the end. And if you want to get the story, well, come see me at the Hillwood on Saturday, February 4th between 10 a.m. and 5 p.m.
The Fox and the Stork
For this, I researched to see if there was any place in France where storks are found and lo and behold, I discovered that such can be found in Alsace Lorraine, so the story takes place there and includes references to the medieval town and the Rhein River.
The Peacock Upon Complaining to Juno
As above, I researched if there is any place, in particular where one can see peacocks in France. I settled on the Bois de Boulogne outside of Paris, where peacocks roam the Les Jardins de Bagatelle. And that is where we find Pierre, the Peacock.
The Tortoise and the Hare
My client really wanted to me to do this story, but I was resisting primarily because the story is only about three lines long and as a physical performer, I had a particular aversion to doing a rabbit/hare (what could I do besides raise my arms for rabbit ears). But I played with it and it is now a 7-minute story about the Tour de France that takes place on the road to Mont Dolent in the Alpe Maritimes that separates France and Italy. The two characters are Lanzo, the braggart hare from Italy and Thierry, the humble French tortoise. And as my new story goes, together, they helped to shape the Tour de France as we know it today. I tell you, working on this was so much fun. Given my initial resistance, who would have thunk it?
The Ant and the Grasshopper
La Fontaine spoke in rhyme (and in old French). To stay true to his genre (kind of) as well as to develop this story so as to resonate with youth today, I chose to develop a physical version of this story, but as it might be told in today's modern culture (but without specific locale, as the content is pretty much universal). Enjoy as it is unraveled to you below.
There once was a hopper who played in the grass
So what was her problem, you might ask
She was a bit poor, this sauterelle
And wasted all her money, this mademoiselle
So how did this girl spend her time
Well, just for that (you got it), I have a rhyme
She had a smart phone for each of her legs
But she wasn't that smart, for in the end she begged
There was always an e-mail to be checked
And that's not all, what about that text
There was Pokemon Go that she couldn't ignore
And there she is again in a Twitter war
Click! A selfie of her great big laugh
And now she's so busy with The World of Warcraft
She had buds in her ears that helped her to dance
So she never heard anyone's common sense
Well, on the other side of town lived a little ant
He worked so hard you could hear him pant
He had bread and meat that he kept in store
And every sunny day he added more and more
So when the winter winds finally blew
La fourmi sat down and just said "Whew!"
When outside his door, he heard a wail
"I'm cold! I'm hungry!" It was the sauterelle
Let me in and I'll give you twice as much
But la fourmi knew better than to think of such
"There's only enough for me," the little ant said
"I'm sorry to say, you won't be fed."
"While I was working here, you were on your phone,
So go and find yourself another home"
The hopper couldn't hear the ant's reply
She took off her ear buds
And as she hopped away, she didn't play
She cried
Managing Practice Time for an Onslaught of Diverse Performances
February, in particular is proving to be a very busy performance month and challenging due to the vast differences in the clients for whom I will be performing, from commissioned work to tried and true stories, from family to elementary to middle school to adult audiences, and includes performances in churches to libraries, schools, and living rooms. So here's how I keep my head together during these varied and particularly anxious times.
1) Make a list of each performance and the stories you wish to tell for that particular audience.
2) Take that list and determine what your staging needs are for each. For example, do you need a table, a high stool, a place to hold a prop, etc. Communicate these needs to your clients before you even begin practice. Although many of you do not use props, if you do, make note of what props you will use for each story. This will save you time at the end of your preparation.
3) After the list is made, now divide the list into two: stories you know well (your go-to stories that you've been telling for years and that you can tell with little, if any, rehearsal); stories that still require some major or minor tweaking.
4) Look at your calendar as soon as you've have these dates lined up and determine the days you have available to practice these stories. I try to do every day so as to break a much bigger task into smaller pieces, but perhaps you are limited to say, three days a week. For sake of argument, let's say you have 30 days of total practice days available.
5) Using our example, practice the new stories every day that you have available (so for the example, you would be rehearsing the new stories 30 times), but divide the familiar stories into four or five units, so that in the end, every day you will be practicing ALL of your new stories, but only one of the familiar stories (the latter of which you are rotating through). If you can't dedicate the time in your home space, tell your stories in the car, or anywhere where you might have some moments of privacy.
6) Don't rehearse at all the day before the performance. Use that time to relax and to prepare yourself in other ways, e.g., choosing your outfit, prepping directions, packing props, etc.