Storytelling World Resource Award
I am proud to announce that my DVD, Embodied & Enchanted: Physical Tales from Elaine Muray, got the Storytelling World Resource Award in the DVD category. I am so proud of this accomplishment and the long work that went into making it a quality piece. Over one hour long, and including four children's stories and three adult stories, it also includes an interview on my storytelling journey and the process I use in my unique style of physical storytelling. If you would like to order, please visit the EMV Store on www.embodiedvoicestoryarts.com. It will also be selling at the National Storytelling Conference. You will get to hear one of the stories at the showcase I'll be performing at on July 27th, between 1:45 and 3:15.
On the Road
It seems that I have been gone more this year than home, due to two international storytelling tours (with Dream On Productions) and subsequent vacations. In October and November, I did a 4-week tour to China and South Korea. My performances were at English immersion schools in the Chinese cities of Shanghai, Suzhou, Wuxi, and Chengdu as well as performances in Seoul and Jeju Island, both in South Korea. I followed this with a two months' vacation to Jeju Island (South Korea), and in China, to Yangshuo and Yunnan Province (Lijiang, Tiger Leaping Gorge, Baoshan, Lugu Lake, Dali, and the Yuanyang Rice Terraces). In April and May, I did a 5-week storytelling tour to Chile (Santiago, Valparaiso, and Antofagasta) and Peru (Lima and Cajamarca). This was followed by a 5-day trek of the Inca trail, and enjoying the sites of Cusco, Colca Canyon, Taquille Island (in Lake Titicaca), and Arequipa. As can be expected, although I told stories, stories and anecdotes were also revealed to me through my travels. Here are a few….the good, the bad, and the ugly.
Communist Party Museum, Shanghai, China.
This museum reveals the history of how the Communist Party evolved in China. My take away was that without foreign intervention in China in the first place, the party might never have come to be.
Lugu Lake, China.
This was the height of my experience while in Yunnan province, and I have to thank storyteller Pam Faro for introducing me to the book, Leaving Mother Lake, the true story about Yang Erche Name. Yang grew up in the Mosuo culture of Lugu Lake, a matrilineal society that practiced walking marriages, in which partners lived with the extended family during the day, but at night, the women give permission to men of their choice to visit them. The fathers of their children are the responsibility of the mother, who also controls finances and property. Uncles on the mother's side are the men responsible for raising their nieces and nephews.
Yang's story focuses first on her early years growing up in the Mosuo culture. However, her singing talents were noticed and eventually she had to leave Lugu Lake to pursue her career. The book discusses her not being part of either world and the culture of her childhood as well as the big cities of Shanghai and San Francisco.
Although the Mosuo people still continue many of their customs, the Cultural Revolution squashed the walking marriage.
Tiger Leaping Gorge, China. We had the great opportunity to hike the gorge for two days and that began at the bottom. As the Yangtze rages by, you see a statue of a tiger looking over his shoulder. As the story is told, a hunter is chasing a tiger, and corners him at the Yangtze. Initially the tiger thinks himself trapped. But then with a jolt of courage, leaps to the other side, thus saving his life. Moral: there's always a way out.
Tiger Leaping Gorge is part of the Tea Horse Road, an ancient caravan route in which Chinese tea and salt were exchanged for ponies, which helped the Chinese fight nomads in the north.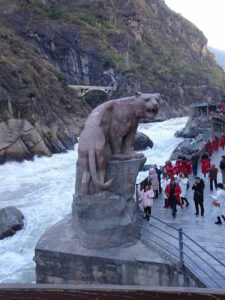 The Disappeared. Chile. During the reign of Pinochet in the early 70s, many political activists were tortured and many just disappeared. I am so glad to see that Chile is trying to keep these stories alive through literature, museums, and theater. While in Santiago, I visited the Londres 38, a former holding place of torture for these activists. It was sparse, yet its hollowness spoke volumes. In the famous Cementario General de Santiago, I saw Allende's grave, noble and stoic, with the honor it deserved. I learned during this visit, that Chile is still divided, many still thinking Pinochet was a hero. I also learned of the Army School of the Americas, where the US helped the Pinochet regime (as well as others in South America) to master torture techniques. While on this part of the tour, I started to read House of the Spirits, by Allende's niece, Isabel Allende, to get this part of history in my head. Ironically, also in this cementary was the grave of Daniel Zemudia, a 24-year old gay man, who was brutally murdered in 2012. He was Chile's Matthew Shepard.
The War of the Pacific. Chile. In touring Antofagasta, I learned the it was once part of Bolivia. Yes, Bolivia was not always landlocked. The reasons are more than I can put into a few simple sentences, but let's just say it's the same ole, same ole….competition for resources, money, and access. Peru joined with Boliva in fighting Chile, and the Chilean army got as far as Lima. Hostilities between the three countries exist to this day. The Peruvians are even appalled that Chileans call pisco their own.
I was also surprised to see gypsies in Antofagasta, something I usually associate with Eastern Europe.   I was told they were of Serbian descent. Now there's some stories I wish I had time to collect.

Atahualpa. Cajamarca, Peru. Atahualpa was the last Incan Emperor who resided in Cajamarca in the north. When they Spanish came to Cajamarca there were only 168 of them, only 35 of them on horseback. Nonetheless, a scout told Atahualpa that they were not a threat. Upon attacking, their horses, weaponry, and boldness were enough to scare away most of the 80,000 Incans and Atahualpa was captured. In prison, he held his hand high up to his head and said that he would fill the room with this much gold. Atahualpa kept his end of the bargain and the gold was delivered. He was going to be executed by fire, but because of his quick conversion to Christianity, was instead strangled.
Taquile Island, Peru. A look around Taquile Island and you would think that you were on a Mediterranean island. Take a few steps and you realize that you are at high altitude…over 13,000 feet. The Taquilenos base their society on the Incan moral code of 1) don't steal; 2) don't lie; 3) don't be lazy. Their handicrafts (knitting by men and weaving by women) are of the highest quality in Peru. It was the one time that I deeply regretted not knowing fluent Spanish. Our homestay was at the home of a traditional Taquileno family. One day the brother of the owner came by with a wide stack of newspaper articles about their family's personal history on Taquile Island. He could not read and asked us to read to him, and filled in any holes with his own oral interpretation. Although there have been anthropological books about Taquile, I have not found anything on their history. Food for thought…or a grant.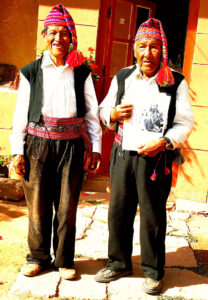 The Ice Maiden, Arequipa, Peru. I first saw Momma Juanita on the cover of National Geographic, but got to see her again at Museo Santuarios Andinos in Arequipa, Peru. A 12-year old girl she was, dug up at the top of the Ampato volcano. A sacrifice to the gods, perhaps for rain or to stop earthquakes or some other catastrophe, she was led up to the 20,700 foot ascent. The walk from Cabanaconde was supposed to have taken months. I couldn't help but wonder what stories were told to her that made her continue. Did she know of her impending death? Was she told of an afterlife that she would go to? Or was she told a tall tale that would still convince her to make this arduous trek. Juanita died of a blow to the head, thus confirming that whatever she was told, it was still necessary that her last moments be a surprise.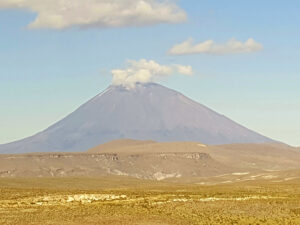 The Condor, Puma, and Serpent Trilogy. Peru. These symbols are found throughout Peru, in their ruins, and in their art.
In Colca Canyon, we got to see many condors flying above and below us.   It is the symbol of the upper world, and is associated with the sun, which gives to all living things. He symbolizes air and thus the ultimate state of freedom..
Although we did not see any Puma in the flesh, thankfully, it was interesting to note that the city of Cusco was designed in the shape of a Puma with the ruins of Sacsayhuaman being the head of the puma (and the zigzag stone structure being its teeth). The puma represents the Earth or present world. In this state humans must learn to adapt and navigate their life on earth.
The snake is the underworld, from which we all come. With the shedding of our skin, we have the opportunity to renew and grow.